Why should I be Auditing my Management System?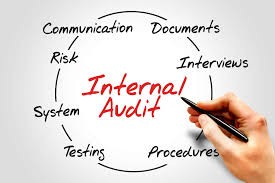 If you are ISO certified, or you have procedures and systems to control activity in your business, you should consider auditing as an essential activity and procedure. You need an internal auditing plan, mapping what is to be audited. Audits are completed by a competent trained auditor who is independent to the process being audited. Audits should report on factual evidence found, detail recognised 'opportunities for improvement' OFI, Nonconformance, Conclusion. They will add value to your management system and ensure continuous improvement within the business. They are a compliance requirement for all ISO Management System Standards. Your corporate clients will expect you to have an auditing structure for your business and may also require you to audit key suppliers to ensure you are able to meet specifications and maintain consistency in your products.
What is the purpose of auditing?
An audit should review written control measures within the management system against actual operations, demonstrated how it really operates and designed to add value, improving organisational process. Through evaluating factual evidence, a clear understanding of how the management system is working and being followed. It will be able to identify areas of compliance, potential improvements and nonconformance that is creating risk to a company.
Audits ensure compliance with governance, laws, regulations and help to maintain accurate, timely reporting and appropriate data collection.
The results of the audit will allow the company to know where it may be possible to reduce risk, increase opportunities and improve efficiency and in turn customer satisfaction and promote continual improvement.

What is the difference between an internal and external audit?
An internal audit is required as part of the company's own management system. Internal auditing should be planned to ensure that everything is inspected in your system over a set period. These can be performed by an employee or a consultant auditor with ISO internal auditor training. Auditors must not audit company systems that they operate ie they must not audit themselves. The report findings are circulated within the company, though may be shared confidentiality, upon request of an interested party looking for evidence of the process and with the agreement of management.
External audits are performed by an external interested party. These are usually Customers, Certification Bodies or Sector Authorities and Chartered Institutes. They are performed to confirm compliance to pre-stated requirements of the auditing company. They focus on quality assurance, health & safety, environmental management, specifically - risk, governance, internal control processes, operations and legal compliance. Reports are shared between both parties.
Must I have my Management Systems audited?
There is no legal requirement for most companies to have their management system audited. However, without auditing, you will be exposing your business to risk, missed opportunity, expensive mistakes and unsatisfied customers.
All systems that are accredited to ISO management system standards must have internal and external audits annually.
Top 5 Benefits for your business:
There are so many benefits of having an audit on your management system.
Ensure compliance to your policies, regulations and operational procedures

This is clearly one of the main reasons to conduct an audit. Having set up control measures to reduce risk to your business and focus on goals, it is essential that these are now being followed. So for peace of mind as a business owner or shareholder that your company is legally compliant and operating as you anticipate an audit provides confirmation and help to reduce the risk of unidentified non-compliance and running the risk of incurring heavy fines, loss of reputation and customers.

Consider System Improvements through identified Opportunities for Improvement (OFI)

Audits should be viewed as a positive process and indeed an independent and impartial auditor has experience of many companies and systems. Making an audit it an ideal opportunity to have an audit expert to identify possible improvements to aid the efficiency of business. These improvements may be around control measures, business processes, waste management, documentation, monitoring and evaluation practices, governance and culture can all benefit through the audit process.

Credibility of the company

An audit demonstrates independent verification that your system is effective, efficient and compliant. It reassures your customers of a true and fair representation of the health of the system. This provides invaluable prestige, credibility and confidence to both internal and external interested parties. This is compulsory if your management system is ISO certified, or your would like it to be.
Identify Nonconformance, reduce costly defects and improve efficiency

When working within a process it is so easy to become blind to nonconformance. To not notice a change in how the process is being performed. Tasks that are not being performed, false readings due to lack of maintenance, defects that have occurred out of specification due to missing inspections. There can be lots of reasons that nonconformance occurs, but an audit gives the company an opportunity to identify and eliminate defects caused by nonconformance. Experienced auditors can locate weaknesses in system controls and suggest options to eliminated and strengthen areas where this is occurring.

Encourage staff empowerment and retention of Company Knowledge

A good audit will include interaction with staff at all levels of the company. The people performing tasks frequently are the experts in their area. Through involving employees in the audit, they often feel encouraged to express what doesn't work and how they think processes can be improved. Their input adds value to the audit and highlights potential innovation and improve company knowledge.
How will an audit benefit your business?
Vivamus sit amet interdum nisi. Suspendisse dapibus eu magna eget molestie. Proin nec suscipit orci. In ligula ex, rutrum sed orci at, posuere tincidunt ex. Mauris a mollis felis. Nunc sapien leo, pulvinar sit amet magna ut, venenatis gravida odio.
Talk to us about auditing your management system, call 01302 630 874 today.
By accepting you will be accessing a service provided by a third-party external to https://leadauditing.co.uk/